Ours is a practice that places you at the forefront. We strive to build connections with those in our care and love the resulting friendships. It's a joy to watch each person move through treatment, observing the changes in their personality as their self-esteem grows along with the changes in their smile.
We'd love to become friends with you, and be your partner toward an amazing smile you'll love to share with the world.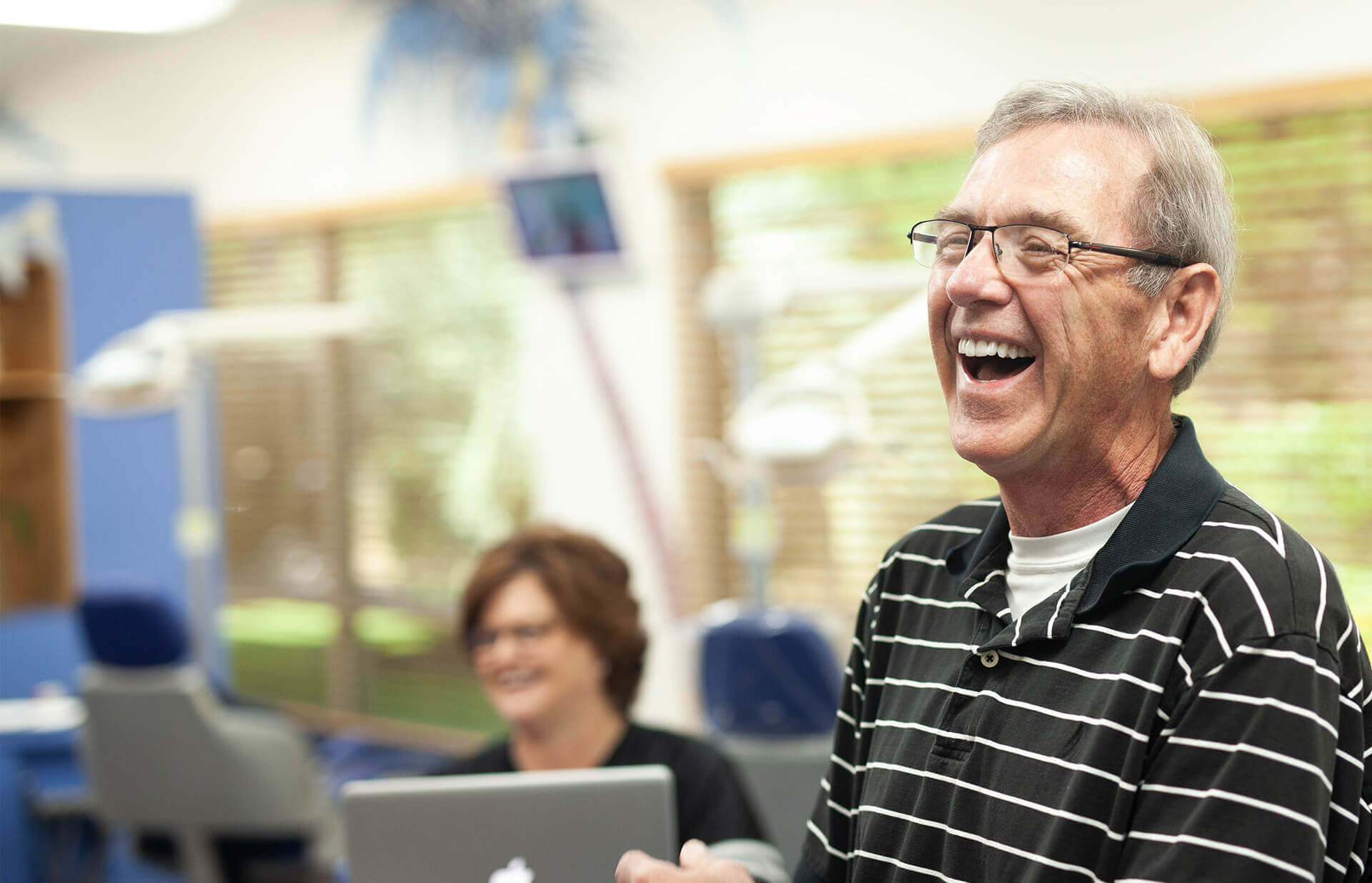 As an orthodontist, I help make positive changes in the lives of those in our community. When a person has an aesthetically pleasing smile, they're more confident. Watching a patient move from having orthodontic problems and challenges to being someone who smiles and laughs openly, is incredible. I help make that transformation happen, every day, and it never grows old.
Orthodontics, though, is not just about smiles. It's also about developing a functional bite. Both are equally important to me. I enjoy correcting bites as much as I like creating dynamic smiles. When I gently align their teeth and correct the dental occlusion, the result is a beautiful smile that's also healthy.I am honored by the trust my patients and their parents place in me. I enjoy getting to know them personally. Each person is more than an individual with orthodontic needs: they are an individual who becomes a friend.
I'm a Pensacola native. Spending time with my wife, Gloria, along with daughter Mandy, son-in-law James, and my granddaughters Lainey and Laurel, is a priority away from work. I also enjoy an occasional round of golf. I'm active in my church and serve on the board of the Fellowship of Christian Athletes.
EDUCATION & COMMITMENT TO CONTINUING EDUCATION
– Bachelor of Science, University of Alabama
– Bachelor of Science in Pharmacy, Samford University
– Doctorate of Dental Medicine, University of Florida College of Dentistry
– Orthodontic Residency Emory University School of Post Graduate Dentistry
– Lifetime Board Certification by the American Board of Orthodontics
– Charter Member of the Five Flags of Pensacola Dental Study Club
Every year I participate in numerous continuing education opportunities at the local, regional, and national levels. Doing so ensures I am current on developments in technology, materials, and treatments. My patients trust me to deliver the highest quality care available; continuing education makes that happen.
PROFESSIONAL MEMBERSHIPS
I feel extremely blessed to do what I do and I love my profession. Therefore, I try to give back to dentistry and orthodontics by serving in leadership roles:
– Escambia-Santa Rosa Dental Association (Past President)
– Northwest District Dental Association (Past President)
– Florida Dental Association
– American Dental Association
– Florida Association of Orthodontists (Past President)
– Southern Association of Orthodontists (Past President)
– American Association of Orthodontists
– College of Diplomates of the American Board of Orthodontics
– Fellow in the American College of Dentists
– Served as delegate to the Florida Dental Association for 10 years
– Served as Director from Florida to the Southern Association of Orthodontics
SPONSORSHIPS & COMMUNITY INVOLVEMENT
– Bill Bond Baseball League
– Trinitas Christian School
– Beulah Elementary PTA
WHAT DOES IT MEAN TO BE ABO CERTIFIED?
A board-certified orthodontist, also known as a Diplomate of the American Board of Orthodontics, has been voluntarily examined by his or her peers on the basis of knowledge and clinical skills. Becoming board certified signifies the orthodontist's pursuit of continued proficiency and excellence in orthodontics. To become board certified, an orthodontist has to pass a rigorous set of written and clinical examinations, as well as a comprehensive review of his or her credentials. The initial process of becoming board certified can take anywhere from five to ten years. Once certified, the orthodontist must become recertified every ten years to maintain board-certified status.
The American Board of Orthodontics (ABO) was founded in 1929. It is the oldest and most prestigious specialty board in dentistry. The ABO's aim is to elevate the standards of the practice of orthodontia, to familiarize the public with its aim and ideals, and to protect the public against irresponsible and unqualified practitioners.
The Board upholds four main objectives supported by its mission:
– To evaluate the knowledge and clinical skills of graduates of accredited orthodontic programs by conducting exams and conferring time-limited certificates
– To re-evaluate clinical knowledge and skills through administration of recertification exams throughout a Diplomate's career
– To support the development of quality graduate, postgraduate, and continuing education programs in orthodontics
– To promote and encourage certification expertise throughout the world
WE LOVE OUR PATIENTS AT RIGSBY ORTHODONTICS! EACH STAFF MEMBER PROMISES TO ALWAYS:
– Treat you with compassion and respect
– Provide ethical treatment recommendations
– Encourage your participation in all aspects of your care
– Educate you about your unique dental and orthodontic needs
– Provide the same level of care that we'd offer a family member